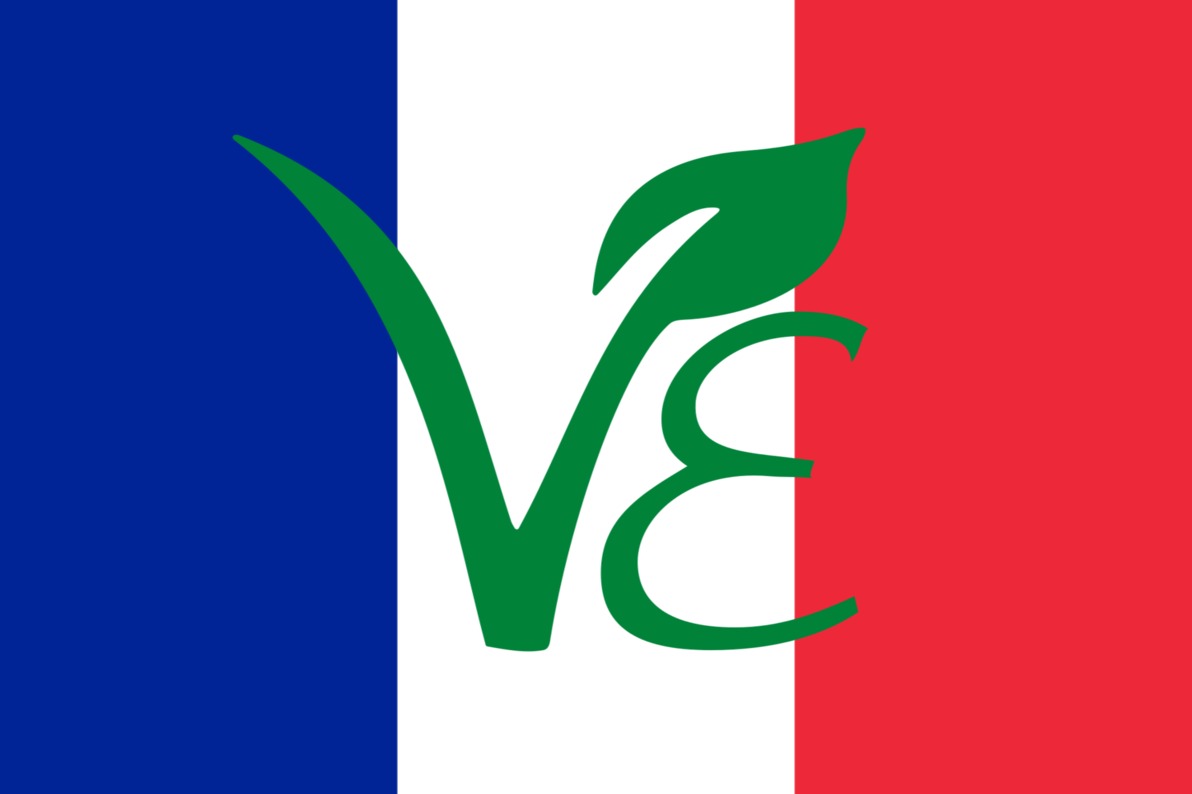 From 1st of June until 8th of June 2018
North department and Somme department
As you might have been able to read on our Blog, at the beginning of June we went to see the notorious nature reserve in the Netherlands, the Oostvaardersplassen (you can read more about it
here
) . Of course, once again, we took our little caravan and our pet birds with us. As the trip was quite long we had to make some stopovers. The first one was in the North Department. We stopped at a campsite called
Les Colombes
in Douai. It had been a long day so after having set up camp we didn't really feel like going out for a meal. So we went to an Aldi supermarket nearby for some of their vegan products. And there was also a "friterie" in the town. So our first night on the road we had to improvise a little bit. But it hit the right spot.
In the Netherlands we set up camp in the
nature campsite the Kemphaan
. We mainly cooked our own meals
(vegan cheese tosties with salads, pasta with tomato sauce, vegan sausages and vegetables)
. One day we went out for lunch in the
restaurant Buitengewoon Lekker
. We asked whether they had something vegan. They prepared especially for us some vegan dishes. They were very pleasant and nice and not at all surprised by our request.
Our second meal out was in the
Tasty Wok
in Lelystad. This is a self-service Chinese restaurant, so you can chose whatever you like. The wok options are very good, plenty of veggies, white rice (to avoid the egg in the noodles or fried rice). It is standard price for everyone (30 euros per person) drinks included.
Our last stop before coming home was in the campsite
Château des Tilleuls
. We had a very pleasant reception and enjoyed our stay in this campsite. We had a nice evening in, cooking our own marinated ¨Big Steaks¨ from Vantastic Foods. At the campsite's snack bar we bought chips and salad to accompany our meal. The next day we headed for home.
26 February 2018
VEGAN AND VEGETARIAN TRAVEL
Find the most vegan/vegetarian-friendly countries around the world, for travellers by clicking on this map

From 6 to 12 October 2017
Gironde department
( International ) tourist locations seem to be more vegan friendly in general
The beginning of October, a month after our last trip, we went on our third vegan trip. This time we chose a location reasonably close, only 3 1/2 hours drive away from home:
Lacanau Océan
, a small town on the Atlantic coast to the west of Bordeaux in the Gironde department/Nouvelle Aquitaine region.
We had to decide at the very last moment whether we could leave as one of our cats just had an operation on her teeth. We do have someone come to stay in the house when we leave, but we don't like to go away knowing an animal is poorly and needs extra attention. Having a caravan is easy in that respect as you can leave without having to book a house or chalet in advance. So we packed in somewhat of a rush just the day before leaving. As you could perhaps have guessed, once we were a few hundred kilometers from home we started to realise that we had forgotten some things such as our vegan cheeses, meat replacements etc. which was a shame as we had brought our toasty maker with us. It was clear that a visit to the shops would be necessary once we had settled in, in order to have something to eat that night.
The 4 star camp site where we stayed, the Airotel l'Océan Camping and Spa ,
is located in the north of the Landes de Gascogne Regional Natural park not far from the ocean in a beautiful setting of an old pine tree forest. It is on the outskirts of the town of Lacanau Océan, where surfing seems to be the main attraction, so we could easily walk into town to the restaurants and to do our shopping. We only visited one of the town's supermarkets, the U Express where the choice of vegan and vegetarian products is very limited. The very first evening we had to make do with a vegetable/bean burger on bread.
For more comprehensive shopping we took our car the following day and drove to several supermarkets in neighboring villages. Surprisingly there was nothing of their vegan range to be found in the Aldi in Hourtin which was about 25 minutes drive from our base camp. So pushed on further to Lesparre which boasts a Lidl and an E. Leclerc. The Lidl also had no range of vegan products but the E.Leclerc did. So it was there that we stocked up our food supply for the coming days with various meat replacements, cold meats and also bought a new kettle as we had forgotten to bring one with us.
As for eating out, perhaps because Lacanau Océan is a surfing town, the vegetarian options in restaurants were quite good. We did a search on the internet for "restaurants végan/végétarien" and mainly got results on the Trip Advisor site and the site of
https://www.lafourchette.com/
which is in French.
Unfortunately, some of the restaurants with the best reviews had already closed for the season and wouldn't reopen until April next year.
We had a very good meal at a restaurant called "Le Monkey",
where they specifically prepared a vegan meal for us based on pasta and vegetables of the season. The african atmosphere is remarkable and very pleasant. We really recommend a visit. We were lucky that we went there on the day after our arrival as it closed for the season a couple of days later.. Another evening we ate in a Moroccan restaurant: Riad Marrakech .
The staff were very friendly and the food was nice. We had a little companion at our table, a black cat begging for food, but we couldn't offer her anything that she found acceptable as we didn't have any meat so she preferred our neighbors' table.
The final restaurant of our stay was a pizzeria called
ROMA
where we had a vegetarian pizza, without cheese, that we really enjoyed. We rejected a restaurant called La Cabane feeding people on Ostrich, Zebra, Crocodile, Kangaroo and all sorts of other exotic meats, even though they did have a vegetarian option.
The fact that you don't eat any animal products in restaurants was never seen as strange or odd with nobody appearing surprised at our requests. We had the impression that this was possibly due to fact that we were in a tourist destination. Veganism is more and more common amongst international tourists and restaurants adapt to this. However, the lack of vegan meat replacements in the supermarkets that we visited was a disappointment.
From 31 August to 5 September 2017
Our second vegan trip was aimed to be to the Haute Savoie from where we would make a couple of city trips to Genève. A problem with the turbo of the car however made us decide to stay at the very first camping we had booked which was located in the Allier department in a lovely spa village called Néries les Bains. It was a lucky choice, as we were close to the major town of Montluçon for shopping, but the camping itself was in a green, hilly, woody, touristy area with a small village nearby so that we could go out on foot, have a drink in the pub, listen to live music and come back without having to drive.
The very first evening we arrived at the camping it was quite late. Shops and restaurants were shut by the time we had set up camp. We had brought vegan cheese and sausage, bread and our toasty maker, so all we had that day was a couple of vegan toasties. For breakfast next morning and the following mornings we had brought our usual breakfast: a homemade fruit smoothie (from peaches off our own trees), cereals, soya milk, fruit, orange juice and coffee. As we do eat the eggs of our chickens we brought some boiled eggs and mayonnaise made from our own eggs.
In the Carrefour in Montluçon, we found a reasonable range of vegan products (which in french is called 'produit végétal' ) like vegan hamburgers, vegan chicken nuggets, seitan stirfry pieces and meatfree salamie and cold meats from La Jasse, 'l'Instant végétal', which were supposed to be vegan as it said végétal on the package. However as we found out later the salamies still contained eggs, so you have to read the label to make sure products are really vegan. In a food supermarket
Le Grand Frais in Montluçon
, we also found several vegan products, but again the "vegan" salamies still contained egg and so were not totally vegan.
On our trip to Moulins we found several vegan products in the Intermarché in Moulins but here also supposedly vegan products like lasagna végétal of
'les Végétales de Monique Ranou'
and vegan cold meat from 'Fleury Michon' contained egg and/or milk. On our trip back home from Moulins we popped in an Aldi in Commentry where we found relatively cheap, vegan charcuterie and sausages from "Simplement Bon et Bio", this time to our relief, without egg products.
As for eating out, we went to an Italian type restaurant 'La Brasserie' in Néries les Bains where you could order a vegetarian pizza. We asked them to leave out the cheese on the pizza. Even without cheese the pizzas were remarkably nice. Another day we ate in an Asian Wok restaurant 'Royal Xia' in Montluçon, where vegan options were plenty. Just leave out the meat and seafood.
Conclusion

Of course camping gives you the possibility to prepare your own meals with vegan meat replacements like hamburgers, sausages, etc. however eating out in restaurants was no problem at all depending on the restaurant you choose of course. And people were very helpful in general. Products vary from supermarket to supermarket so you don't have to eat the same meat-replacement every day. However it is important to read the labels, as 'produit végétal' even with the Ⓥ or V sign is not garanteed to be vegan (so without milk and/or egg products).
France, 30th of July 2017
The start of our "Vegan Tour de France"
Although having lived in France now for many years we have never really had the opportunity to enjoy visiting the country. When we came here our first priority was the house, then the garden and the fields. Then we got involved in the association for the protection of animals
NALA
that has taken most of our time until recently. We thought it was about time to travel a bit so we bought a little caravan, an old Eriba Puck, with an awning.
Yesterday was our very first trial trip to La Rochelle which is only about an hour away from us. With the car laden with our lugage in the back, our tiny pet chickens in their tent and our green-cheeked conure parrot, Pindy, on the backseat we left. Of course, we expected a little bit of traffic as it is peak holiday season at the moment. What we didn't expect though was a blockage of the main tourist road by farmers protesting for the umpteenth time that they aren't being kept by the taxpayer in the manner to which they are accustomed.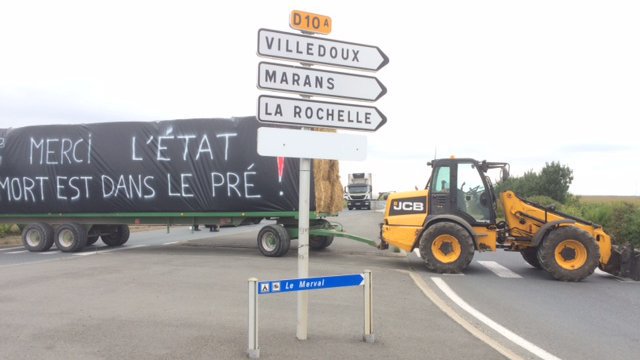 The article about the protest, published the day we left:
We had planned to camp in a camping site in La Rochelle, but traffic was impossible. Luckily when it came to a dead halt we are only two cars away from a side road that had a sign post announcing a campsite "Le Merval" . So we decided to stop there.
It was the receptionist who informed us about the farmers' protest and told us that they didn't know how long it would go on for. So we just took it easy and set up camp and then had a bite to eat, while we waited for the immense traffic jam to disperse.
By late afternoon twice was flowing freely so we took the car into la Rochelle. There, after the customary visit to an
Irish pub
, we had a lovely, vegan meal in a small eco-friendly restaurant called
'Le comptoir de Walter'
which also serves vegan and vegetarian food. You will find the following advertures of our
"Vegan Tour de France" here