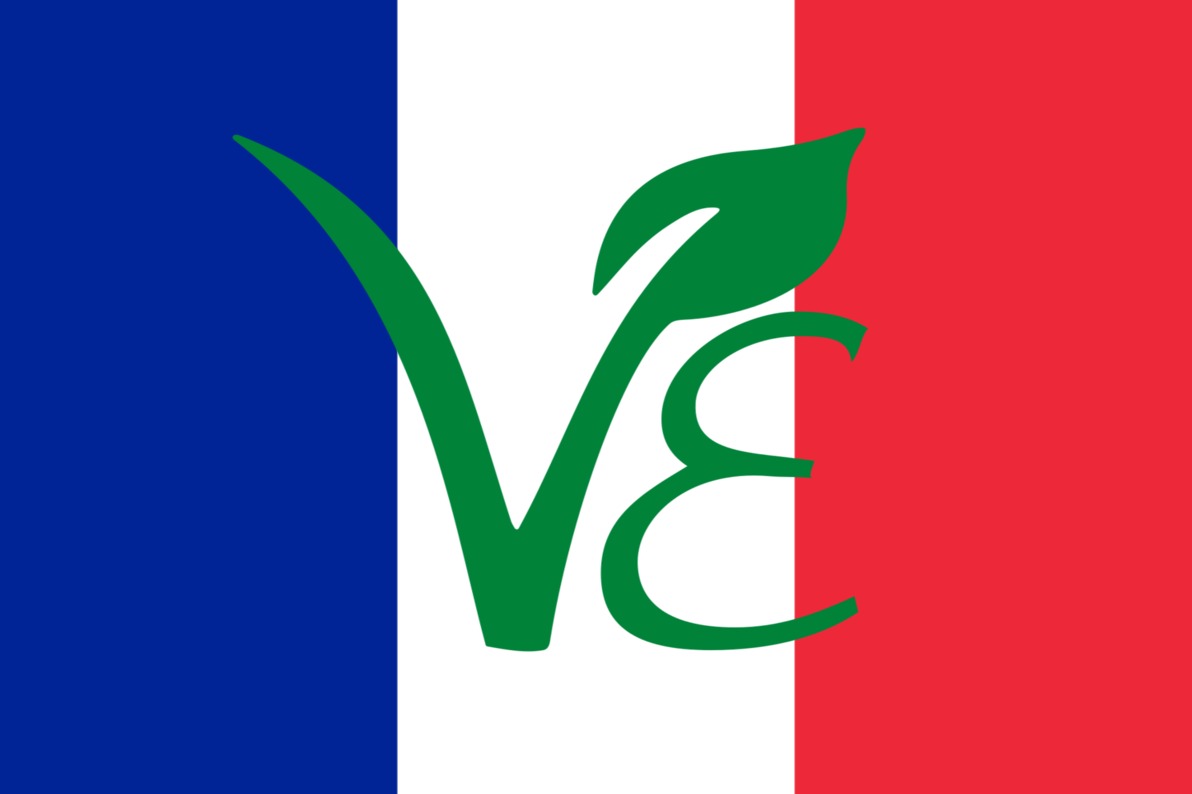 Our Vegan Tour de France Trip 19 - ROYAN (Charente Maritime)
It's always difficult to get away when you have the responsibility of so many animals. But finally, with everyone OK and in good healt,h we packed our bags, we prepared our little ERIBA PUCK caravan plus tents and drove to ROYAN in the Charente Maritime department for a couple of days. Apart from some vegan salamies, cheese and salads we didn't have much in our fridge. The plan was to eat out as much as we could and see what Royan has to offer for vegans. Business as usual.
Compared to the last trip to Belgium it was a bit of a disappointment. At arrival in the campsite "Le Royan" (a very good camping by
the way) we looked up the possibilities on the internet. Getting a pizza at Domino's seemed like a good idea for the first evening as we
were quite tired after the trip and setting up the tents.
The next day after a slow start, we prepared a salad for lunch. We went to a supermarket E Leclerc. Even there the options were limited compared to the Vendée, where we live, and that's pretty limited!
For the evening the plan was to go to a Thaï restaurant "BOON saveurs", that said that all its recipes were available in vegetarian or
even vegan. A good start, we thought. The restaurant opens at 7PM. We were a little early and so waited for a couple of minutes in the car. Exactly at 7PM we entered, we got a table. There were already 2 tables occupied. We said we were vegan. The waitress told us that they would be able to adapt their dishes. While we looked at the menu, two more couples entered and got a table. They got served drinks and starters almost straight away. About 30 minutes after we had arrived the waitress had still not been back to see us, not even to take an order for some drinks. We felt pretty uncomfortable. So we left, something we have never done before. Why weren't we served, we don't know. Was it because we were vegan? On the menu there were only three options: meat, chicken or fish...
After this very unpleasant experience, we were still hungry, so we looked up an Indian restaurant. There was one not far away, "The Taj Mahal". And there we were welcomed warmly by a young waitress, and even though it was quite busy and we also had to wait a little
bit we left after a very good meal. Our plates were almost polished clean...
The next day we decided to go out for lunch. We found a cute little takeaway restaurant "Une cuisine dans ma rue". The cook prepares only vegetarian dishes, but vegan is not a problem. She leaves out the cheese and replaces it with something else. The desert was very nice.
And one day we went out for a drink and found a hamburger place called "Chez Laurent." They did a veggie burger. And then after that it was becoming quite difficult to find something we liked. We already had had pizza, Indian, a hamburger, salads. Royan and its neighboring villages are at the seaside, so there are lots of fish and seafood restaurants. The French cuisine itself is very limited with regard to vegan food.
But camping gives you the possibility to eat in.... a quick visit to a Organic food shop "Les comptoirs de la Bio" and we finished the trip with our own vegan barbecue.
A tip: always phone before you want to go somewhere to make sure the restaurant is open and to ask what is available, to avoid any disappointments.
Our Vegan Tour de France Trip 18 March 2023 this time not in France but in Belgium
This trip we went to Belgium and were able to compare the situation for vegans. We discovered that Belgium is way ahead compared to France with regard to the offer of vegan products. In supermarkets we found a lot more choice and in one supermarket it was even standard to mention on the shelves which products were for vegans. This makes shopping a lot easier, even though we do recommend that you still always check the labels. We found out for example that a veggie "Steak Américain" contained milk. Also in restaurants eating vegan was easy. There were several options available in each restaurant. And even some hamburger fast food restaurants provided with reasonable choice of vegan food. Below an impression of our latest trip to the coast of Belgium.